Click Play to watch the video
High Holy Days 2020 / 5781 – The Online One
In keeping with the theme of this year, for obvious reasons, the High Holy Days will be different to usual as all of the services will be online.   This will provide everyone with the opportunity to participate through a choice of three types of services.
Download the High Holy Days Handbook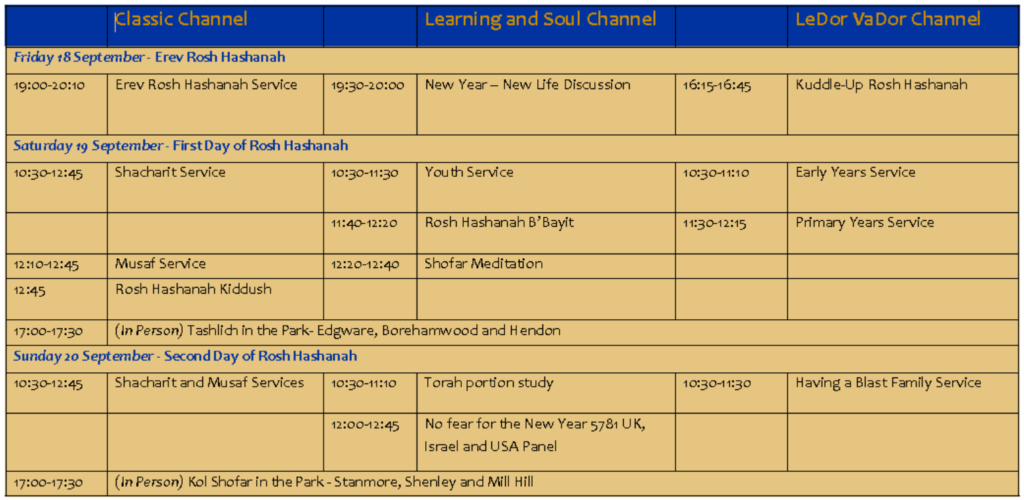 Rosh Hashanah at a Glance
Take a look at all that is going on throughout Rosh Hashanah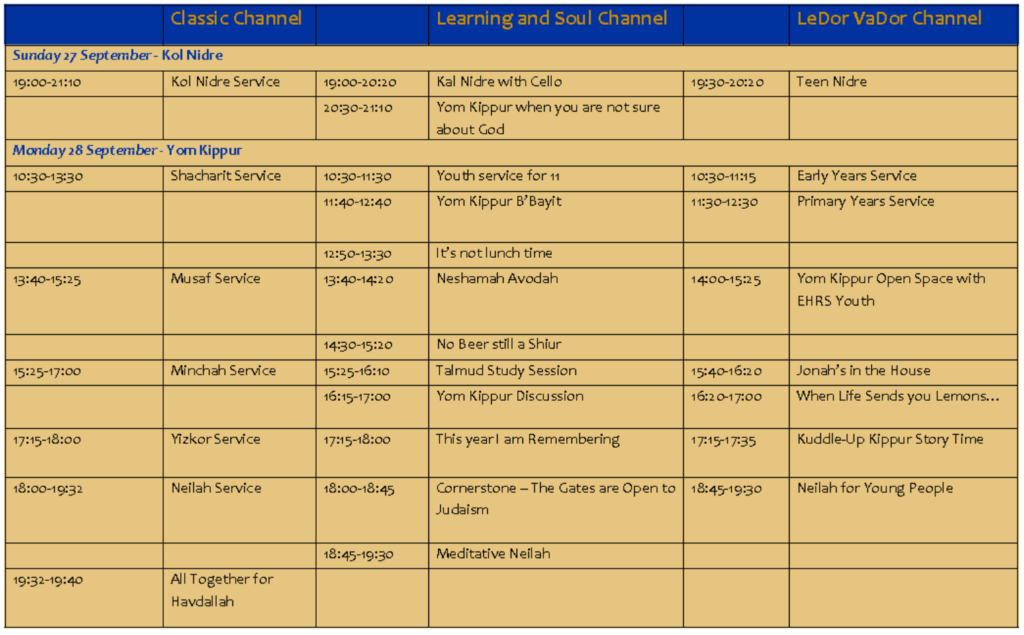 Yom Kippur at a Glance
Take a look at all that is going on throughout Yom Kippur
What if I have difficulty with technology?
We will be delighted to help you out with personal assistance or even to lend you and set up equipment. Please just call any of the team at the Synagogue Office on 020-8238 1000 or email us at admin@ehrs.uk as soon as you can and we will do our best to help.
What if I feel uncomfortable using technology on Rosh Hashanah & Yom Kippur?
The basis upon which our Synagogue has decided to make all of our prayer services and learning sessions available on-line is honoured in Jewish tradition.
For nearly two thousand years since the time of the Mishnah Yoma 8:6, our Rabbis agreed that the saving of life and even the potential saving of life had to, at dangerous times, suspend the laws of Shabbat and the Festivals. However, there may be times when you would prefer not to join us through your screen and for this our handbook provides plentiful resources. You would be welcome to borrow a copy of Days of Awe, our Machzor, from the Synagogue for private prayer if you do not own your own.
Join In
We are mainly online at the moment but slowly starting to meet again in person where safe to do so and people want to.
There is still so much going on so please jump in.
High Holy Days Appeal
A tzedukah group, made up of people from the community, men and women and of different age groups, meet and choose from charities that apply which they believe will speak to all interests in the community.
Tikkun Atzmi – The repair and improvement of ourselves and our own community
EHRS Community Needs Fund enabling us to support our own members with an urgent welfare/financial need. (This is not to pay the shul bill, but some other crisis help). The CNF incorporates the EHRS Jewish Participation Fund which enables EHRS children to enjoy Jewish Life (summer camps, RSY-Netzer, etc) and adults (Limmud, more costly EHRS activities) who live with challenging financial circumstances.
Alan Sennit Memorial Trust. A youth leadership programme in mixed schools where young people learn about each other, their different cultures, religions and communities. This year the training focusses on becoming 'Upstanders' looking at racism in all its forms, where young people reflect on themselves and their own responsibilities in society, whilst gaining leadership skills that will serve them throughout their lives.
Tikkun Ami – Support of Jews both in the UK and abroad
Chai Cancer Care – Chai In Schools project. Councillors go into schools to give guidance to teachers when there is a serious illness or bereavement in a pupil's family. They also support the child's classmates – there is one-to-one and group counselling available with specialist play, art and music therapy to support children in a familiar setting during school hours, and at Chai centres during school holidays.
Moishe House. The organisation engages in expanding the base of Jewish 20+ year olds through peer led experiences that keep them involved and connected during these critical years of identity building when they might not otherwise be involved in formal religion. The aim is to ensure that young adults living together in Jewish houses can access Jewish life in a way that is relevant and meaningful to them.
Malki Foundation. This charity's aim is to empower the families of children with severe special needs in Israel to be able to choose home care for their youngsters. They are looking for funding to purchase assistive equipment for their new Equipment Lending Unit at the Alyn Hospital in Jerusalem. The equipment will be used by children with disabilities in their rehabilitation and therapeutic processes after medical intervention at Alyn. (For example, a 'Mini Stander' for a child who can hold their own weight but needs support costs £1,500).
Jewish Bereavement Counselling Service (JBCS). This is a specialist, professional and confidential bereavement service that is available to all members of the Jewish community.
This year, due to the coronavirus losses, the service has been inundated with requests for support. Unfortunately due to social distancing JBCS has been forced to suspend face to face counselling and group sessions, however it is still providing their services on-line and are in need of specialist technology support to help identify solutions, to obtain, configure and install software and apps and to train counsellors how to work in this new reality.
Tikkun Olam – Helping to repair the wider community
Hope Not Hate. This charity challenges racism and extremism, engaging those susceptible to the message and equipping mainstream society with knowledge and skills to overcome hate.
Due to the current pandemic there have been numerous incidents of attacks on Chinese people and their heritage. This interfaith project is a positive support campaign twinning
EHRS with a local Chinese community, creating a resource pack and running cultural events together to celebrate both communities.
Save a Child's Heart. This is an Israeli Non-Profit Organisation that brings to Israel children born with heart disease from developing countries for surgery. The service is free to parents and the doctors volunteer their services. All other costs are met by fund raising around the world. SACH also trains doctors and nurses from those countries in paediatric cardiology.
Funds are needed to buy equipment for the intensive care unit at the new international Paediatric Cardiac and Children's Centre in Holon.
Donate to the Appeal