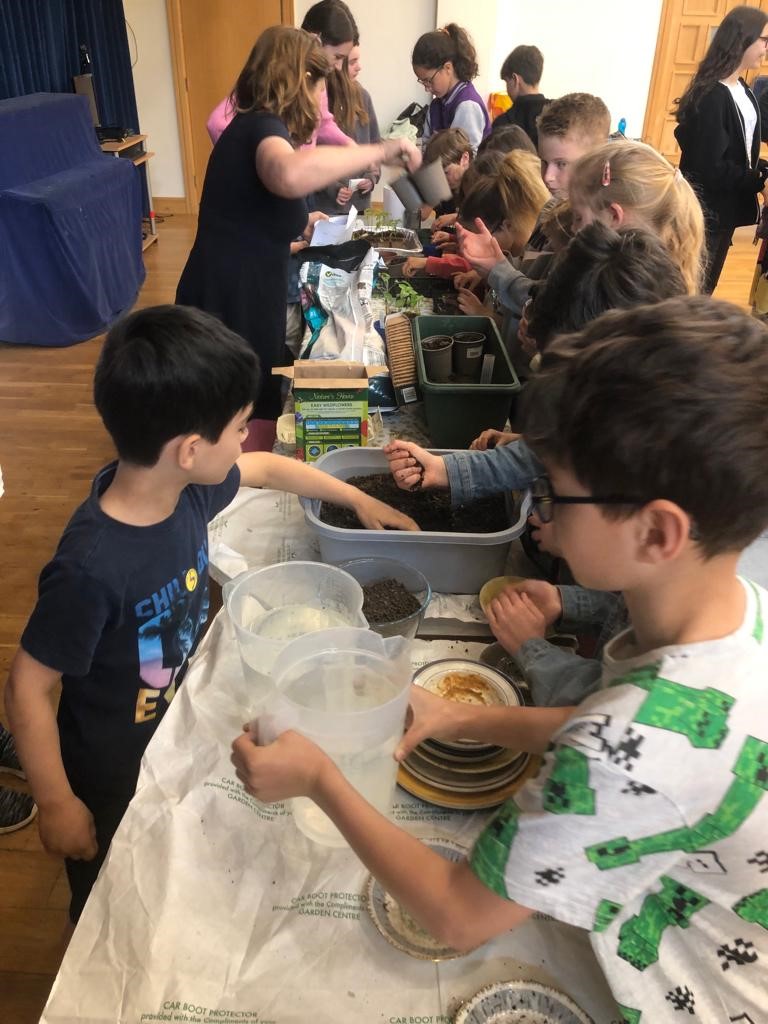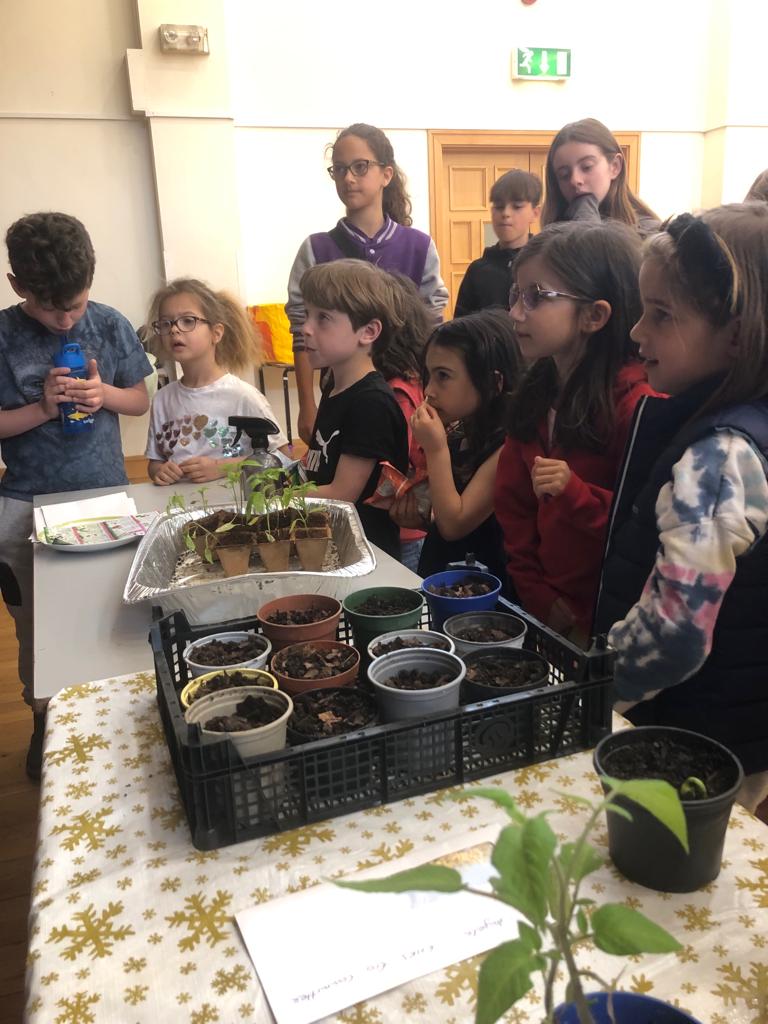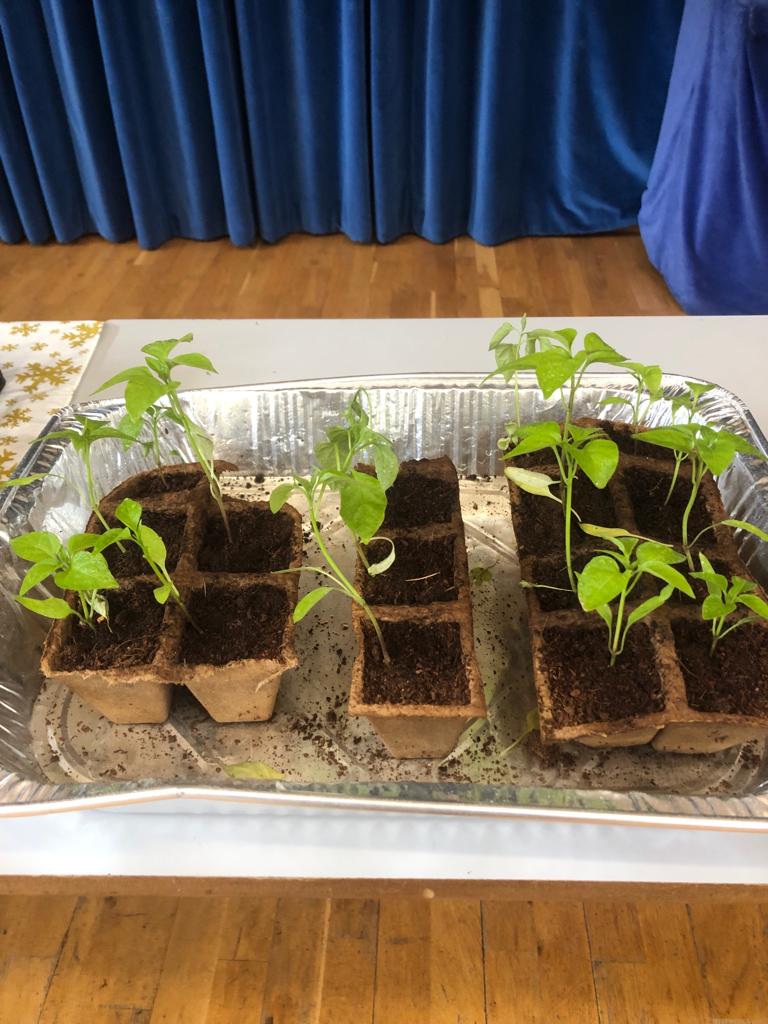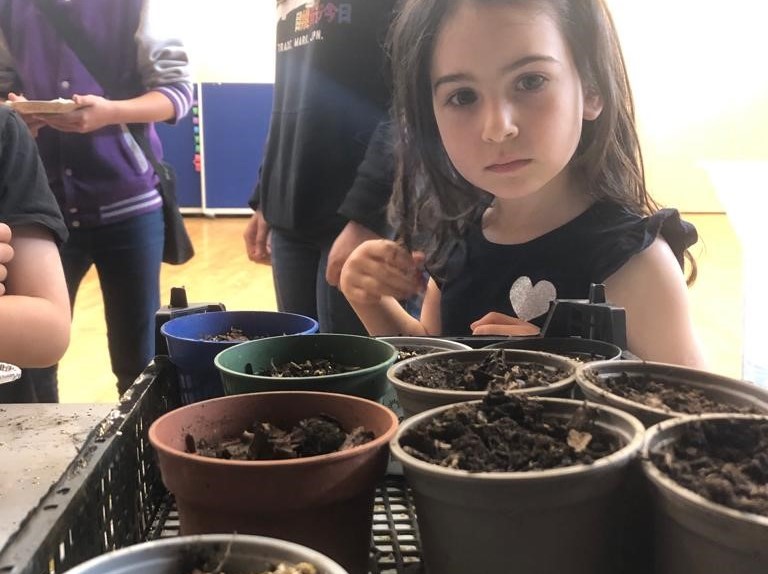 Eco Team
It started with a thought-provoking meeting back in October 2019 "Climate Change is a Jewish Issue." A good turnout and a lively discussion produced several proposed actions one of which, joining EcoSynagogue, was prioritised for 2020. EcoSynagogue (www.ecosynagogue.org) is designed to provide a practical and simple road map towards a net zero carbon future. This unique initiative spans the whole Jewish community with religious leadership from four denominations of Judaism. Rabbi Mark is the Reform Judaism representative on the Steering Group.
EcoSynagogue invites each participating synagogue to an online Environmental Audit which is a comprehensive survey of how we engage with the environment in our places of worship. The audit helps us to assess how we are doing and ways in which we can improve. The score will lead to a Bronze, Silver and ultimately Gold EcoSynagogue Award.
We plan to create a number of activities this year to bring environmental action into EHRS life. Hopefully, some of the excellent ideas first mooted back in 2019 will also come to fruition.
EcoJudaism is a unique initiative which spans the whole Jewish community and aims to move that community towards a net zero carbon future. If you would like to know more about their work, please sign up for their newsletter at ecojudaism.org.uk. If you would like to know more about what we are doing, please see our calendar of events or email ecoteam@ehrs.uk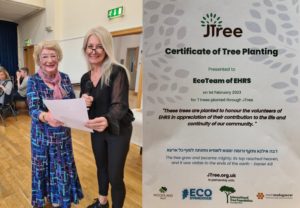 February 2023
EHRS donated 7 trees to honour all the volunteers of the community.
On behalf of our eco-team Julie Tucker presented it to Shirley Lever,
one of our most senior volunteers at the communal Tu B'Shevat Seder.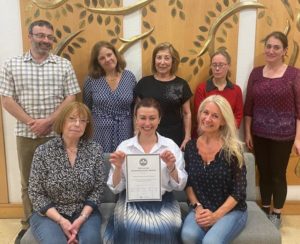 August 2023
Following on from our success last year when we were awarded a Bronze certificate by EcoJudaism, the Eco Team is proud to announce that this year, EHRS have achieved a Silver award.
EHRS Eco Tips
Reduce, Reuse, Recycle
EHRS now has 2 types of recycling bins. One is for general waste. The other is labelled mixed recycling and is for cardboard, cartons, food tins, drink cans, glass bottles and jars, mixed paper, plastic bottles, tubs, pots and trays. You may have even more options where you live but, what do you do with the items that don't fit your home recycling choices? Before you consign them to general waste and subsequently, landfill, check and see if you can recycle them elsewhere.
You can now take plastic bags, wrapping, crisp packets, sweet and chocolate wrappers, cling film and pet food pouches to most major Supermarkets. You can also take pet food pouches to your local branch of Pets at Home.
Superdrug will take empty blister packs and the Recycle at Boots scheme has been set up to take those hard to recycle beauty, healthcare and wellness products that cannot be put in home recycling.
Coffee pods and capsules can be recycled through Podback. Visit their website to find out more. Most opticians will take unwanted glasses and Help the Aged and Age Concern will take used hearing aids.
For more options try the Recyclenow website and, if you like the idea that your unwanted stuff could raise money for charity, check out "Recycling for Good Causes."
According to WWF by 2050 there could be more plastic in our oceans than fish. Our throwaway culture cannot continue.
So what can we do? First, stop and think before reaching for the familiar, ask yourself if there is a sustainable alternative and avoid single use items wherever possible. Here are a few swaps you could try. Swap clingfilm for beeswax or soy wax wraps. Swap teabags for loose leaf tea. Swap liquid soap and shampoo for solid versions. Swap plastic toothbrushes for those made from bamboo or treat yourself to an electric toothbrush (preferably one made from recycled plastic which doesn't use removable batteries). Swap wet wipes for bamboo versions or use washable cotton cloths or, at the very least, use biodegradable ones. There are also bamboo versions of cotton buds. If everyone made just a few adjustments to their everyday buying habits it would make a big difference.
Try using natural ingredients to clean your home. Add 1/4 cup of White Vinegar to your washing machine fabric softener dispenser to soften clothes; clean your washing machine by putting 2 cups in the detergent dispenser and run it empty through a complete cycle on the hottest wash; spray it onto shower screens to remove water marks. Dilute 1/3rd White Vinegar with 2/3rds water add 3 pumps of washing up liquid and you have an eco friendly, all purpose, affordable spray cleaner. Oxygen bleach or Sodium Percarbonate disinfects, whitens whites, deodorises and remove stains and because it doesn't contain chlorine bleaching agents it is safe for aquatic life. Bicarbonate of soda works well for removing baked on residue on pans and baking trays. Mix two tablespoons of Bicarbonate of Soda with hot water and a squeeze of washing up liquid to form a thick paste, apply to the pan and allow to soak for up to 20 minutes. Remove using a sponge or plant based scourer for a sparkling finish.