Yom Hazikaron and Yom Ha'Atzmaut
Yom Ha'Atzmaut, Independence Day, is the national day of Israel, commemorating the Israeli Declaration of Independence in 1948. The day is marked by official and unofficial ceremonies and observances.
Because Israel declared independence on 14 May 1948, which corresponded with the Hebrew date 5 Iyar in that year, Yom Ha'Atzmaut was originally celebrated on that date. However, to avoid Sabbath desecration, it may be commemorated one or two days before or after the 5th of Iyar if it falls too close to the Jewish Sabbath.
Yom Hazikaron, the Israeli Fallen Soldiers and Victims of Terrorism Remembrance Day is always scheduled for the day preceding Yom Ha'Atzmaut.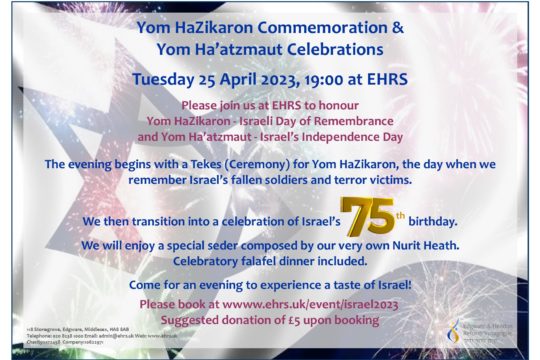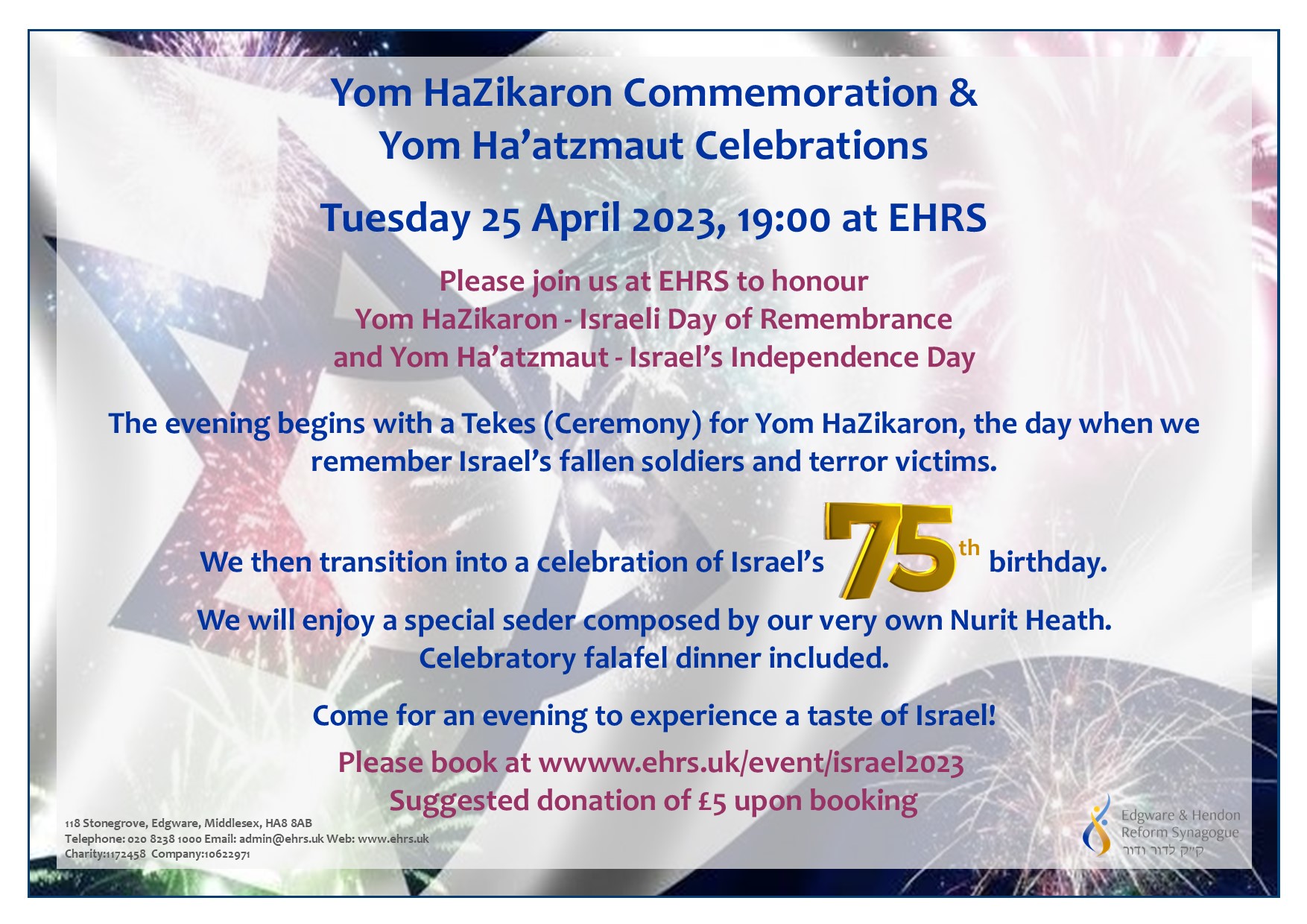 Yom HaZikaron Commemoration & Yom Ha'atzmaut Celebrations
Tuesday 25 April 2023, 19:00 at EHRS
Please join us at EHRS to honour Yom HaZikaron – Israeli Day of Remembrance and Yom Ha'atzmaut – Israel's Independence Day
The evening begins with a Tekes (Ceremony) for Yom HaZikaron, the day when we remember Israel's fallen soldiers and terror victims.
Only this part of the evening will be Livestreamed.
We then transition into a celebration of Israel's 75th birthday.
We will enjoy a special seder composed by our very own Nurit Heath.
We will also feature a live link with Israel on the evening to speak together about the extraordinary events of the past four months.
Celebratory falafel dinner included. Come for an evening to experience a taste of Israel! Suggested donation of £5 upon booking.
Please click here to book