Social Action
Our vision at EHRS states that… "We are enthusiastic to innovate so that Judaism enhances life in today's world and we are committed to care for all our generations."
Here are some of the ways that EHRS members enhance life in today's world and how you can get involved.
Please scroll down this page to read more.
We support child refugees who arrive in this country on their own by volunteering or donating to The Separated Child Foundation.
We support 6th formers from The London Academy, around the corner from EHRS, through the national charity Career Ready. You can mentor a 6th former and/or offer them internship.
We donate non-perishable foodstuff or toiletries to the homeless as well as men's clothing by leaving them in the white baskets near the cloakroom at EHRS. We then deliver them to Homeless Action in Barnet for onward distribution.
We support rough sleepers in emergency accommodation in Barnet with Together in Barnet by volunteering to befriend them, prepare one or more courses of an evening meal or breakfast for 16 people, deliver the meals to a hotel.
We support people leaving ultra-orthodox communities with Gesher EU.
We make regular donations to World Jewish Relief. Contact the EHRS office for more details, admin@ehrs.uk
We volunteer to help others inside the EHRS community through our Community Care Department.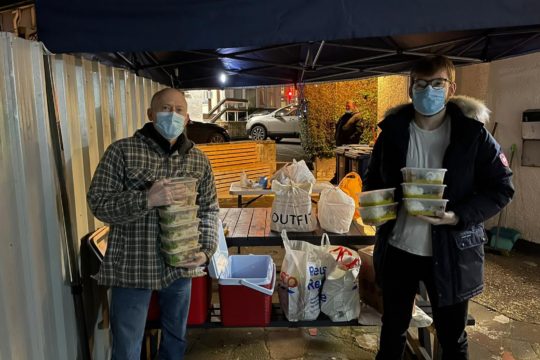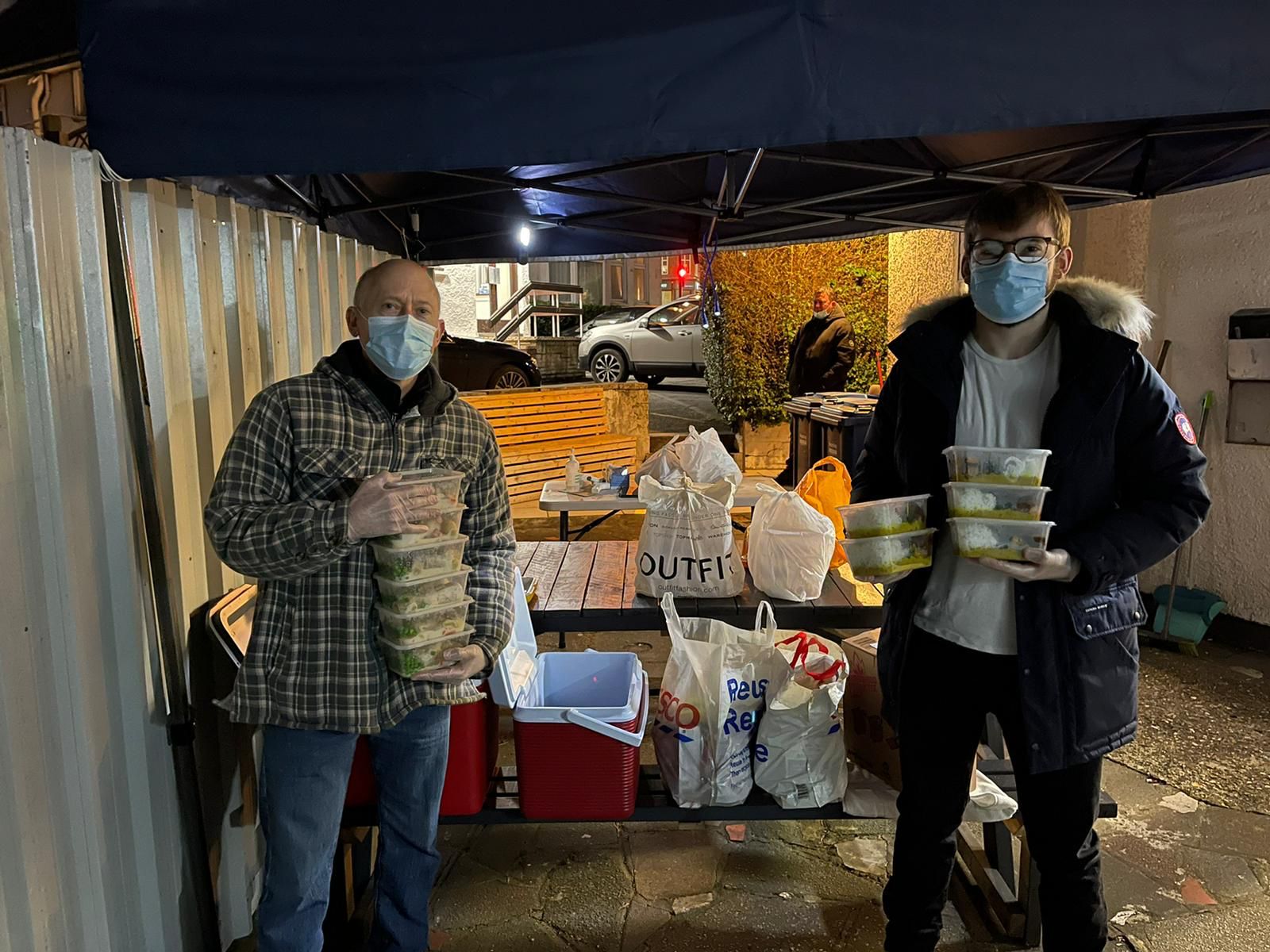 Together in Barnet (TiB)
TiB Night Shelter Returns to EHRS in March 2023
The night shelter at EHRS will be running on Monday nights/Tuesday mornings between 6 March – 17 April and the volunteer rota is open now.
Please click here for the Volunteer Handbook, and click here for the Volunteer Registration Form
We will need cooks (at home), people to set up, people to serve dinner and socialise, people to serve breakfast, people to stay overnight and sleep in the hall with our guests, people to serve breakfast and people to deliver bedding to the next venue.
We particularly need volunteers for the overnight sessions 21:45-06:30, the morning sessions 06:15-08:00, the purchase of breakfast groceries, and the transport of bedding for the next venue. If you would like to add your name to the rota please email nightshelter@ehrs.uk with the date and time you can help.
We will be holding a volunteer training session ahead of opening in March.
Many Thanks for your support, Lisa Bard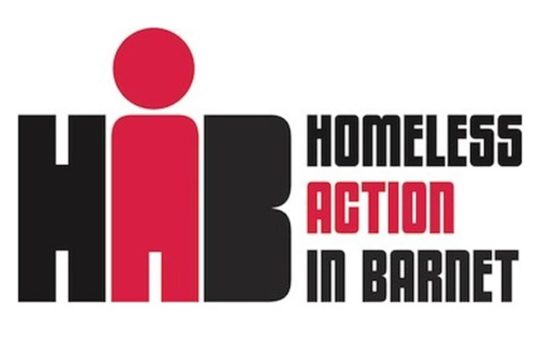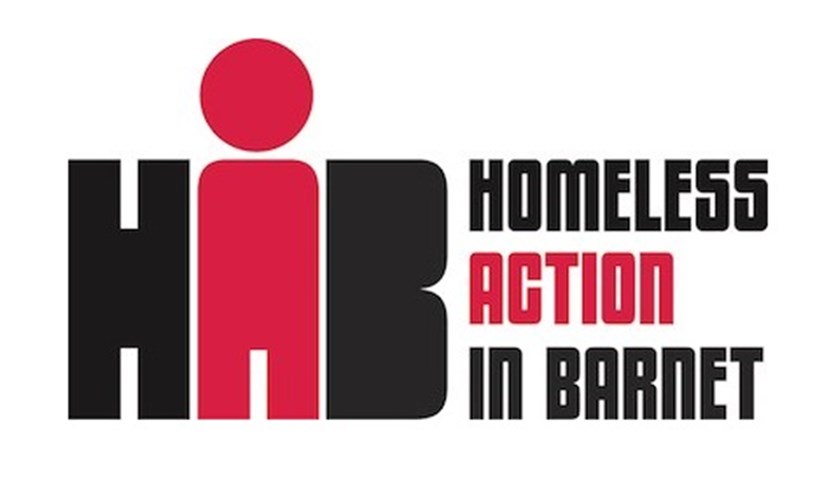 Homeless Action Barnet
Volunteer or Donate to Help the Homeless with Homeless Action Barnet.
Homeless Action Barnet (HAB) operate a Day Centre in Finchley, allocating a key worker to each client to help them into long-term accommodation and employment. HAB always need working basic mobile phones and SIM cards so they can keep in touch with their clients.
HAB provides a regular food and toiletry care package for each client and needs regular donations of the following items:
• carrier bags
• small washing up liquid
• toilet Rolls
• UHT Milk
• tinned meat
• small jars of coffee
• Sugar small 500g packets
• butter
• pot/packet flavoured noodles
• stir in sauces
• chocolate
• sweets
• biscuits
• tinned soup
• tinned fish
• tinned sweetcorn, carrots, potatoes or peas – (not chickpeas or butter beans, thank you)
• stock cubes
• individual cooking oils
• sachets of salt and pepper
• ketchup
• long life puddings e.g. Tinned fruit or rice pudding
Donations can be dropped off at Homeless Action in Barnet, 36b Woodhouse Road, N12 0RG at any time between 9:00-15:00, Monday to Friday. Alternatively, you can drop them off at EHRS in the white baskets near the cloakroom.
Donate here to Homeless Action Barnet
£5 give someone a hot breakfast & lunch
£10 enables a visitor to have showers and clean clothes for a week!
£20 helps us to support 1 person for a day!
History of EHRS support for the homeless in Barnet
Hendon Reform Synagogue (HRS) used to operate a night shelter under the auspices of Together in Barnet. When HRS joined with EDRS to form EHRS, we saw the opportunity for our new community to continue the good work started by HRS. We offered this rewarding volunteering opportunity to our membership and people signed up in droves.
Starting in February 2019 EHRS opened our doors for the first time as a night shelter. During the 10 Wednesdays of the night shelter at EHRS we gave out 132 evening meals, 132 safe and warm beds for the night and 132 breakfasts to help people on their way. Our guests particularly liked the moveable partitions we have at EHRS which they used to create their own space. We helped our guests build supportive relationships with each other and with the wider world and brought structure back into their lives.
We engaged with 67 different volunteers to help us operate the night shelter, most of whom are from within the EHRS community, but some people were friends of members. Other volunteers had no direct connection with us but found out we were running a shelter on the internet and approached us to help out.
In addition to the individuals who volunteered, the following local organisations joined us:-
EHRS nursery Nagila baked hamentaschen
EHRS brownies baked jam tarts
Rotary donated groceries
Give Together partnered with Immanuel College and Belmont School to donate food and with Highgate School who gave backpacks crammed with useful things to our guests
Cartons of Stanmore collected toiletries from their customers and donated individual packs of biscuits for our guests to take away
We held a celebration for our volunteers after we completed our first cycle of running the night shelter. We were joined by James Chagula the night shelter co-ordinator from Together in Barnet (TiB) and TiB trustee Sarah Rosen-Webb as well as our new Rabbi Mark Goldsmith who volunteered for the night shelter in his previous community at Alyth.
If you would like to get involved, contact Lisa or Audrey by emailing us at nightshelter@ehrs.uk
Lisa Bard & Audrey Zarach, Night Shelter Co-ordinators at EHRS
TiB's Befriending & Mentoring Project
The aim of the Mentoring and Befriending Project is to tackle isolation and loneliness as well as offering people an opportunity to gain from the breadth of experience in the HAB & TiB volunteering communities.
Sessions will be tailored to each person, who will set short, medium and long-term goals, reviewing and developing these during the course of the project.
People experiencing homelessness face many challenges. Life on the streets or moving from place-to-place (sofa-surfing) is emotionally, mentally, and physically taxing. Living without a stable environment makes the route into secure accommodation incredibly difficult. Then there are the challenges of adapting to living 'inside' and some find maintaining their new accommodation a challenge. This project has been designed to help reduce the impact of these challenges, and support those who engage with the project to positively move out of homelessness whilst improving their overall wellbeing.
This project is a hybrid of 'mentoring and befriending'. Befriending projects typically aim to support people's emotional health by offering them support in the form of someone to talk to on a regular basis. Mentoring projects typically aim to support people practically by improving their life skills or by helping them achieve their education or career goals.
Our project hopes to have the flexibility to provide both depending on each individual's needs and goals. Volunteers and the individuals engaging with the project can either choose to go down the befriending side of the project, or the mentoring side of the project, or a combination of both. Our hope is that this will cater to all individuals.
When applying to take part in this project, volunteers and individuals, will outline which area they would like to focus on, which will allow us to match pairings accordingly.
TiB will then support both the volunteers' and individuals' journey throughout this project via regular communications and feedback sessions. This feedback will help mould the direction of the project and help us realise its potential.
If you are interested in being involved, please contact Together in Barnet's Operations Manager to arrange an initial chat by emailing amanda@togetherinbarnet.org.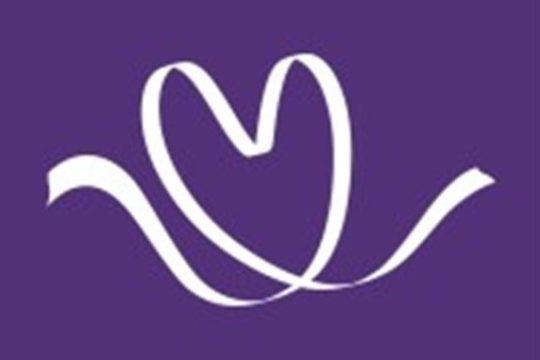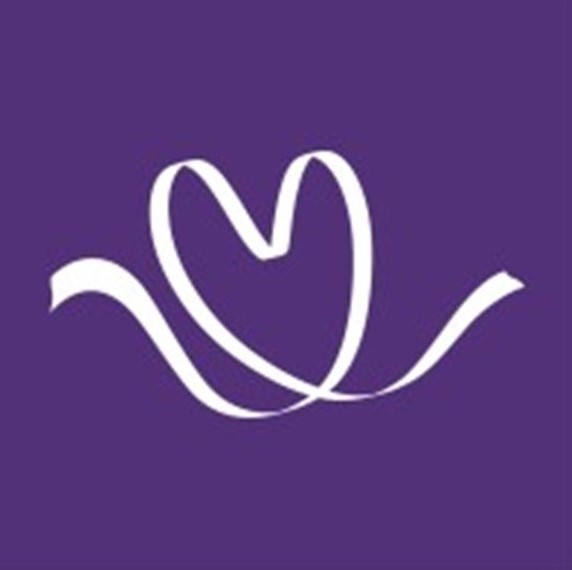 The Separated Child Foundation
Supporting Unaccompanied Child Refugees with The Separated Child Foundation
Volunteer to Help Refugee Children
The Separated Child Foundation supports child refugees who arrive in this country on their own. They provide an Arrival Pack of new clothing and toiletries for each child (usually a teenaged boy). Many refugees have difficulties sleeping as they have travelled at night and slept during the day. So we have put together a Sleep Pack to help them return to a regular sleeping pattern. Every other Sunday morning between 10:00-14:00, volunteers meet at The Big Yellow Storage in Staples Corner to put together Arrival Packs & Sleep Packs so they are ready for onward distribution to refugee children via social services.
If you would like to volunteer on Sunday mornings, maybe while your child is in Orot, then email Lisa Bard on lisa.bard@ehrs.uk
Get Knitting for Refugee Children
If you have some spare time, knitting needles and wool we need you to make some stress balls which we provide as part of the Sleep Pack.
Instructions:
• knit a 10 x 10cm square on small needles to make it tight
• It can be plain, rib or stocking stitch
• After casting off, sew the 2 opposite corners together
• Draw in the third corner
• Now it looks like an open envelope
• Stuff the envelope with kapok (we can provide you with this)
• Draw in the fourth corner and stitch together
Please contact karen.ashcroft@separatedchild.org to arrange to deliver the stress balls to The Big Yellow at Staples Corner. If you prefer to drop off in Mill Hill, then email Lisa on lisa.bard@ehrs.uk.
Donate here to The Separated Child Foundation
£10 provides a Sleep Pack to a separated child
£40 provides an Arrival Pack to a separated child
£140 provides ongoing support for a separated child for one year
Gesher EU
Supporting Leavers of Ultra-Orthodox Communities with Gesher EU
GesherEU is a charity, founded by EHRS member Emily, that supports people who leave the charedi (ultra-orthodox) communities. You can find out more about us at www.geshereu.org.uk.
We are looking for people to host a young person in the process of leaving the Charedi community in exchange for company, doing odd jobs or light work. If you or anyone you know might be interested, please contact us to find out more. Email help@gshereu.org.uk or call Robert or Emily on 0300 800 9753.
Donate here to Gesher EU
£10 buys a travel card to enable a member to attend one GesherEU social
£25 covers the cost of the travel and entrance fee to a museum or art gallery to broaden the member's horizons
£50 buys one week's emergency food supply for a member who is homeless
Career Ready
Career Ready is a national charity that aims to improve social mobility through connecting young people to the world of work. One of the schools that Career Ready partners with is The London Academy on Spur Road, around the corner from EHRS. Career Ready offer a 12-month programme to Year 12 and Year 13 A level students to raise aspirations, widen networks and build confidence.
Career Ready do this by offering masterclasses, monthly meetings with a mentor and a summer internship to students on the programme.
The ask from volunteer mentors is to share one hour a month of their time, experience and expertise with their student. This will be at a time and place that is convenient for both parties. Mentors will be DBS checked and receive training and regular support centrally from Career Ready and locally from the Local Advisory Board that runs the programme at The London Academy.
We also seek internships for our students of up to 2-6 weeks from local employers.
80% of employers said their intern added value to their organisation
72% of employers would hire their Career Ready intern
90% of interns said their internship helped develop key employability skills
If you would like to volunteer or offer an internship, please contact long-standing mentor, Lisa Bard on lisa.bard@ehrs.uk.