PURIM 2023/5783
Purim & Party with Captain Calamity
Sunday 5 March, 11:00-12:30
For all young families
EHRS Does Eurovision For Purim!
Monday 6 March, from 17:30
Come and join us for a Eurovision based Purim, the reading of the Megillah of Esther for Purim, followed by an EHRS Purim Spiel and a chance to enjoy a lechayyim together! Our Megillah reading will be in person at EHRS & viewable on the EHRS Classic Channel. Whether you are with us at EHRS or at home, do come in costume (extra points for dressing as something connected to Eurovision!)
Purim Spiel
If you or members of your family enjoy acting and would like to be part of our exciting Purim Spiel please get in touch with Rabbi Tanya, tanya.sakhnovich@ehrs.uk.
The Purim Spiel will be performed on Monday 6 March in the evening at EHRS. The rehearsals will take place through January and February.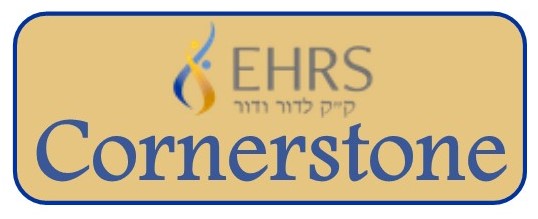 Cornerstone Purim Special
Cornerstone Purim Special
Tuesday 28 February, 20:00
The community is warmly invited to join our regular Cornerstone class on this date to learn all about the origins and customs of Purim.
In the lounge at EHRS or you can join us on Zoom.
Please email admin@ehrs.uk for Zoom details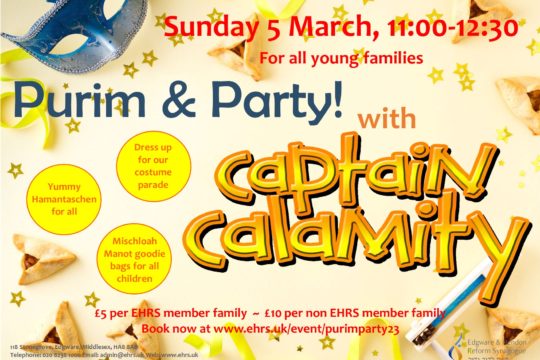 Purim & Party with Captain Calamity
Purim & Party with Captain Calamity
Sunday 5 March, 11:00-12:30
For all young families
• Dress up for our costume parade
• Hamantaschen for all
• Mischloach Manot goodie bags for all children
£5 per EHRS member family ~ £10 per non EHRS member family
This event is now SOLD OUT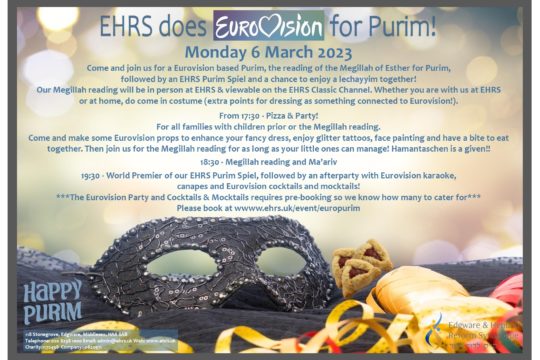 EHRS Does Eurovision For Purim!
EHRS Does Eurovision For Purim!
Monday 6 March, from 17:30
Come and join us for a Eurovision based Purim, the reading of the Megillah of Esther for Purim, followed by an EHRS Purim Spiel and a chance to enjoy a lechayyim together!
Our Megillah reading will be in person at EHRS & viewable on the EHRS Classic Channel. Whether you are with us at EHRS or at home, do come in costume
(extra points for dressing as something connected to Eurovision!)
17:30 – Eurovision Pizza Party & Games, Karaoke, glitter and fun!
18:30 – Megillah reading and Ma'ariv
19:30 – World Premier of our EHRS Purim Spiel, and an afterparty with Eurovision karaoke, canapes and Eurovision cocktails and mocktails!
The Eurovision Pizza Party and Cocktails & Mocktails requires pre-booking so we know how many to cater for, please click here book.