PURIM 2022/5782
There are many homes for the movies starting with Hollywood in California. Now there is of course Bollywood in Bombay (now Mumbai) and Nollywood in Lagos, Nigeria turning out hundreds of films each year.
Recently, though, archaeologists have discovered a long forgotten part of movie history buried in the sands of Persia – Shushanwood! It is thought that the Shushan fortress may really have been a film studio, established by Cecil B De Ahasuerus, that Mordechai may have actually been a talent agent and Esther an aspiring actress looking to star in the movies. Haman of course was a mean and autocratic film director who terrorised the many Jews of Shushanwood.
Show us your acting skills!
Especially for this year we would love you to make a short (no more than 1 minute) video of your own with you and your family (if you can persuade them!) playing a scene from any film with yourselves as the actors.   Here are two great examples:   Click here for the video from the EHRS Nagila Kindergarten with their interpretation of a classic 1960's British film:  EHRS Nagila Purim Movie   Click here for the EHRS Education and Youth Team  video as they channel their inner Disney:  EHRS Education and Youth Purim Movie
Please send the result to rabbi.mark@ehrs.uk by Sunday 13 March at the latest and we will splice them together into a great new movie – 'That's Purim Entertainment', to be premiered at Shushanwood at the Movies.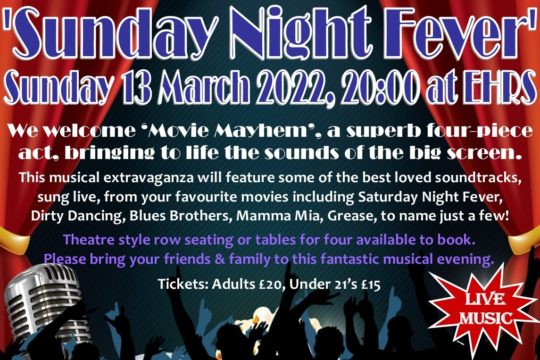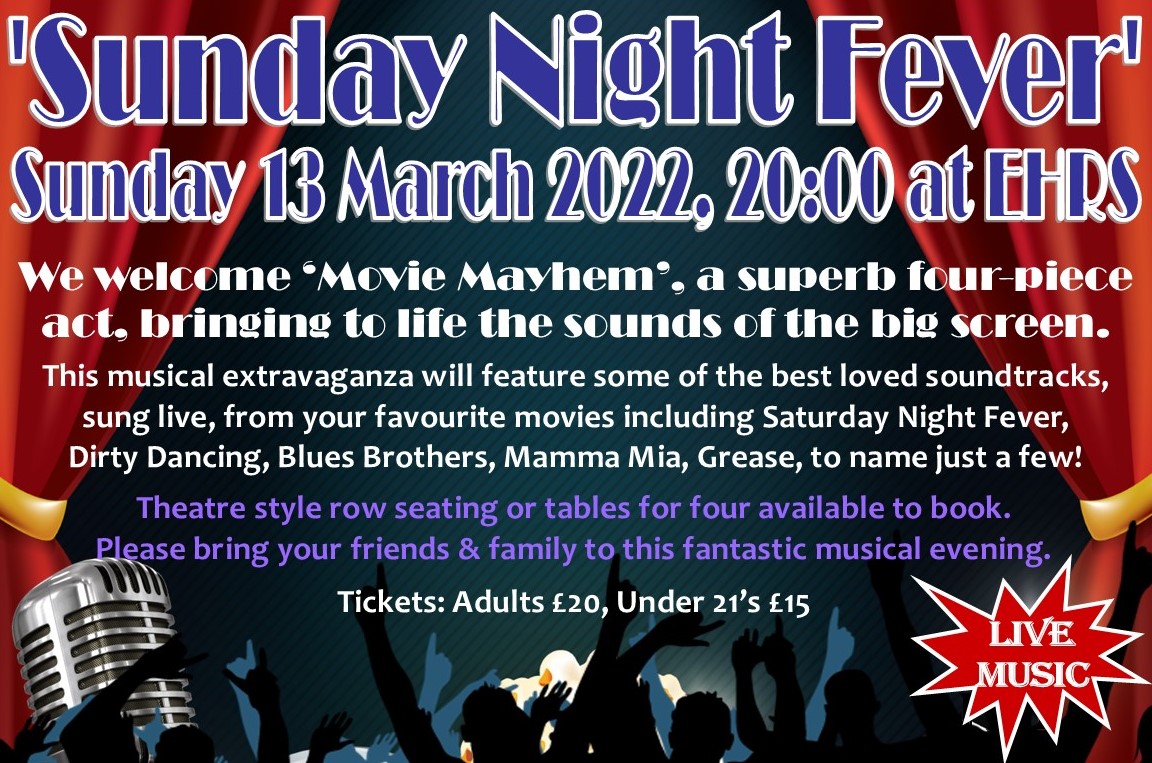 Sunday Night Fever!
Sunday Night Fever
Sunday 13 March, 20:00
This event kicks off our week of Purim celebrations!
After the success of our 'Jersey Four' event in 2019, join us again at EHRS for an evening of LIVE music.
We welcome 'Movie Mayhem', a superb four-piece act, bringing to life the sounds of the big screen.
This musical extravaganza will feature some of the best loved soundtracks, sung live, from your favourite movies including Saturday Night Fever, Dirty Dancing, Blues Brothers, Mamma Mia, Grease, to name just a few!
Theatre style row seating or tables for four available to book.
Tickets:
Adult Row Seat £20, Under 21's Row Seat £15, Table for Four £80
with popcorn for every guest!
Doors open for seating at 19:30, show begins at 20:00, show ends approx 21:45
Feel free to wear your best movie themed get up, or come 'Footloose' and fancy dress free!
Refreshments of alcoholic and non-alcoholic drinks will be available to purchase during the interval.
Please bring your friends & family to this fantastic musical evening, because 'Nobody Does It Better', and we guarantee you will have the 'Time of Your Life'!
Please click here to book your seat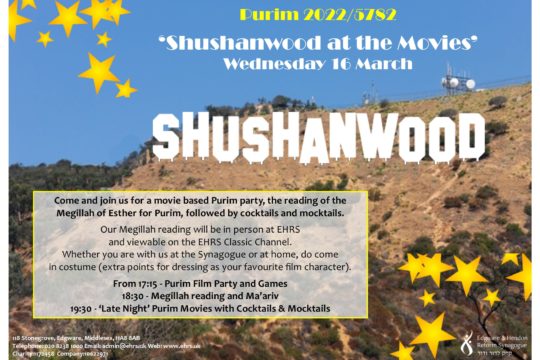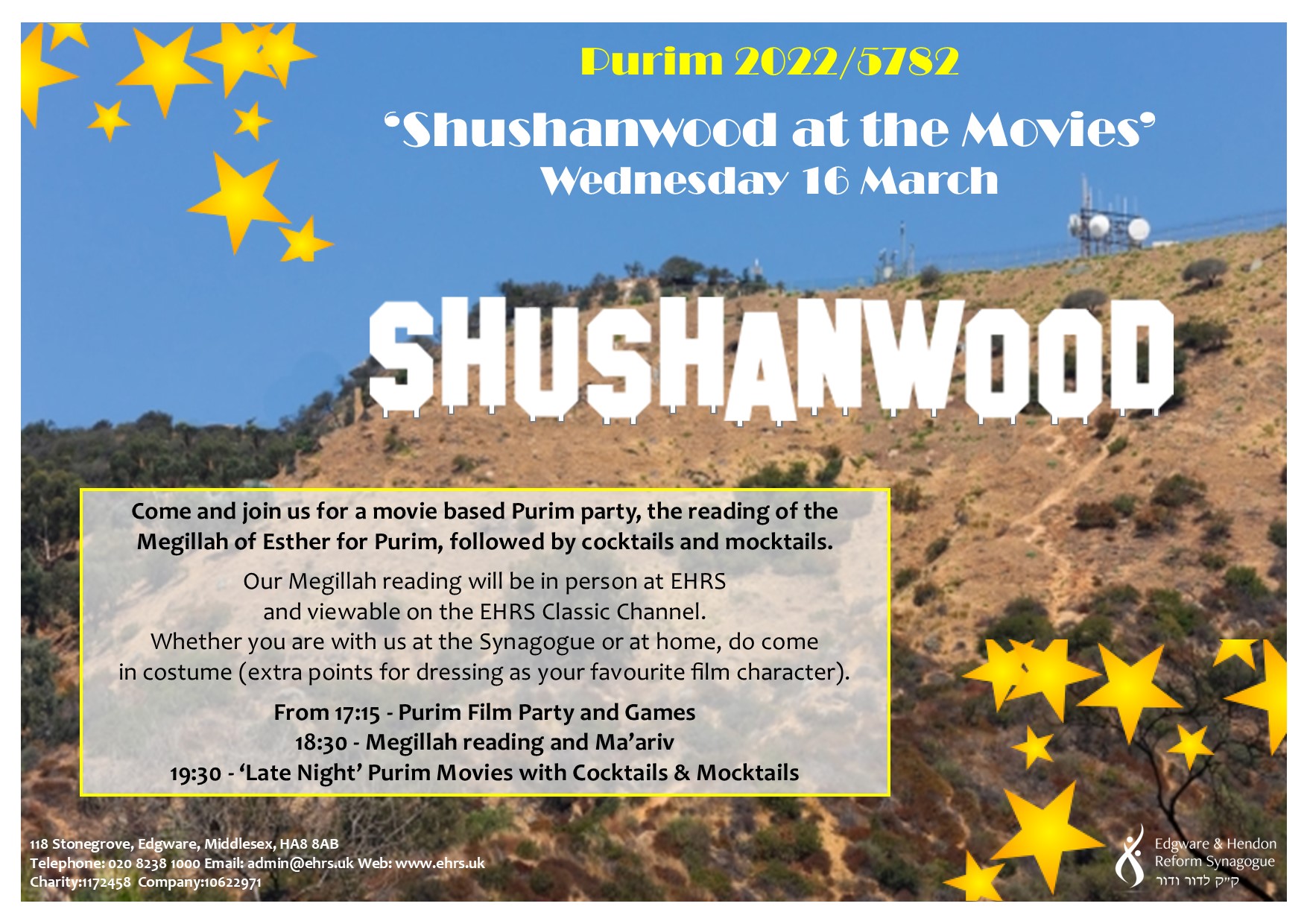 Shushanwood at the Movies
Purim 2022/5782
Shushanwood at the Movies
Wednesday 16 March, from 17:15
This year at EHRS we bring Shushanwood alive again with 'Shushanwood at the Movies' !
Come and join us for a movie based Purim party, the reading of the Megillah of Esther for Purim, followed by cocktails and mocktails.
Our Megillah reading will be in person and viewable on the EHRS Classic Channel (the home of a great weekly Jewish soap opera Shacharit and Torah Service).
Whether you are with us at the Synagogue or at home, do come in costume (extra points for dressing as your favourite film character).
17:15 – Purim Film Party & Games (Purim making props, Karaoke, the Esther awards and supper (fun for all ages). Requires pre-booking below so we know how many to cater for, please click here

18:30 – Megillah reading and Ma'ariv (with the film premier of 'That's Purim Entertainment')
19:30 – 'Late Night' Purim Movies with Cocktails & Mocktails (afterparty with karaoke and canapes). Requires pre-booking below so we know how many to cater for, please click here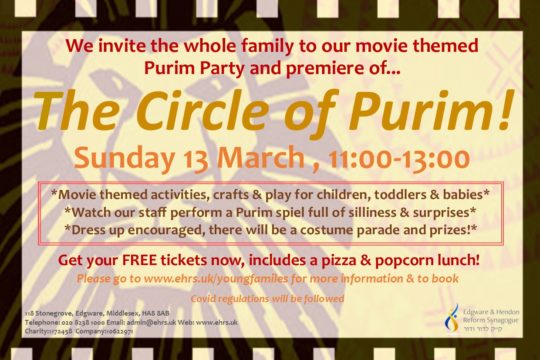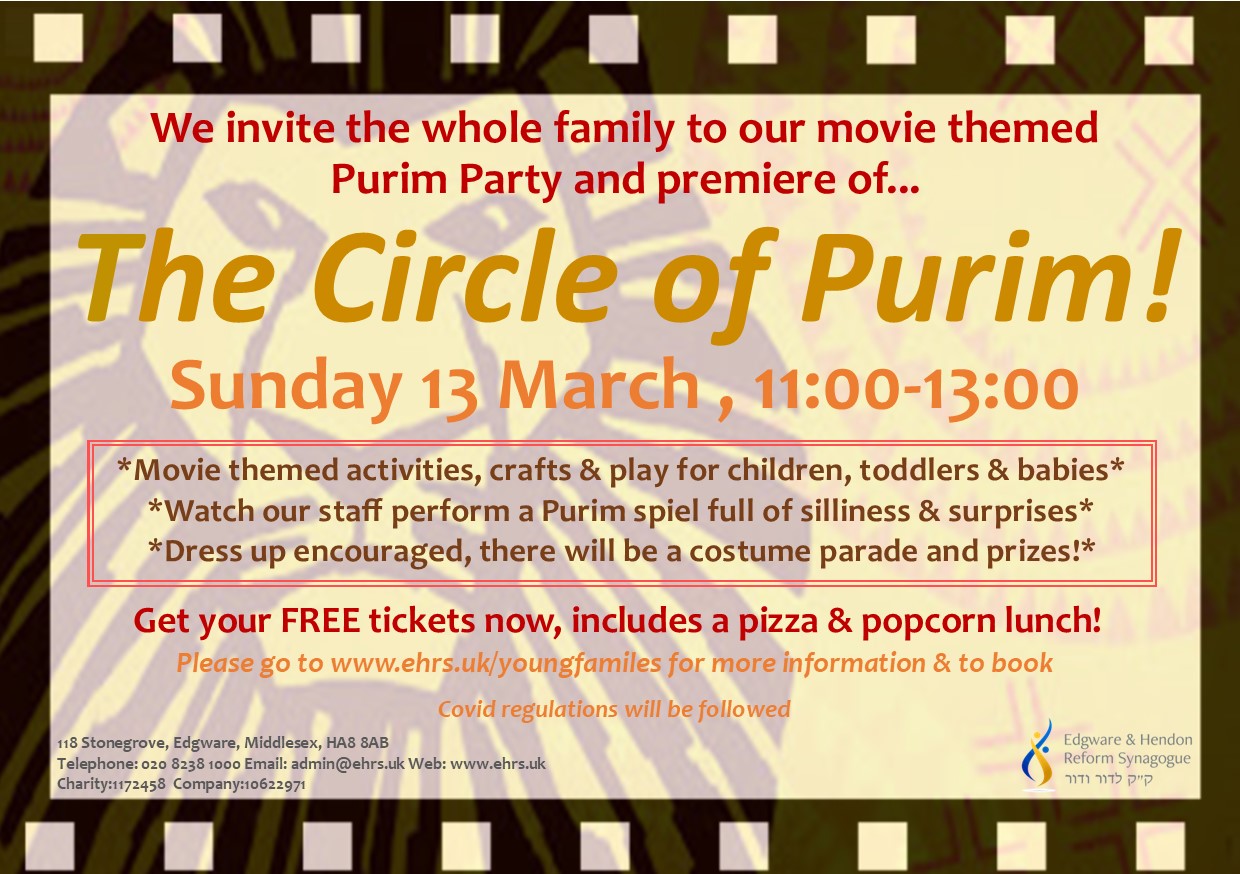 Families Purim Movies Party
Families Purim Movies Party
Sunday 13 March 2022, 11:00-13:00
We invite the whole family to our movie themed Purim Party and premiere of…..  The Circle of Purim!
*Movie themed activities, crafts & play for children, toddlers & babies*
*Watch our staff perform a Purim spiel full of silliness & surprises*
*Dress up encouraged, there will be a costume parade and prizes!*
Get your FREE tickets now, includes a pizza & popcorn lunch!
Covid regulations will be followed.
Please click here for more information & to book