Be part of your Community

Volunteers help us make a difference.
We often have volunteering opportunities at EHRS which can include, helping with events and activities, assisting with our magazine packing, baking for festivals, and more.
Please see our volunteering opportunities below.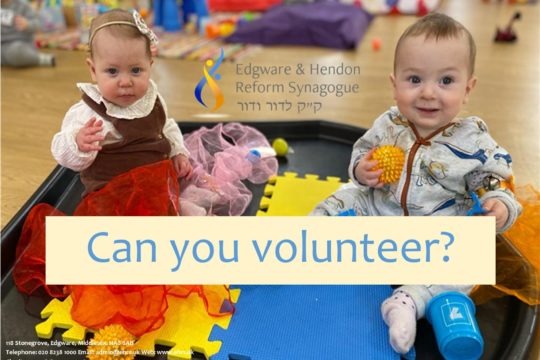 Shabbat Stay & Play Volunteers
Can you help at our cutest group?
Can you spare a couple of hours on a Friday morning (term time only) to help with our cutest group at EHRS?
I am looking for volunteers  for our busy and vibrant baby and toddler group. This would include helping to set up toys and activities, befriending parents, helping families access our sensory room and supporting our Kiddush. This will be a rewarding and active voluntary role, where you will be at the heart of welcoming and supporting our families and youngest members enjoy EHRS and Jewish life.
If you are interested in finding out more, please get in touch. Youngfamilies@ehrs.uk|020 8238 1025
Thanking you in advance.
Sarah Koster, Young Families Lead