Shavuot marks the wheat harvest in the Land of Israel (Exodus 34:22), it also commemorates the anniversary of the giving of the Torah by God to the Children of Israel at Mount Sinai. The word Shavuot means "weeks" and it marks the conclusion of the Counting of the Omer. Its date is directly linked to that of Pesach; the Torah mandates the seven-week Counting of the Omer, beginning on second day Pesach, to be immediately followed by Shavuot. This counting of days and weeks is understood to express anticipation and desire for the giving of the Torah. At Pesach, the people of Israel were freed from their enslavement to Pharaoh; on Shavuot, they were given the Torah and became a nation committed to serving God.
Please scroll down to see what we have in store for you this Shavuot including services, Tikkun Ley'l Shavuot study sessions, and a Shavuot Street Party to also celebrate the Queen's Jubilee!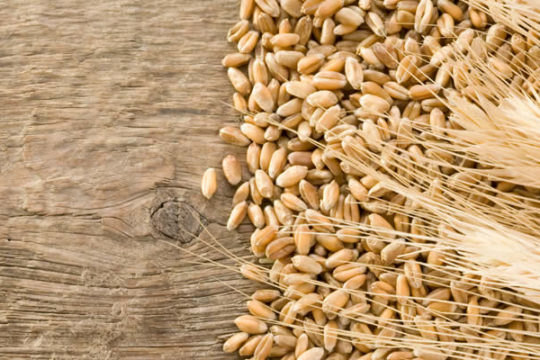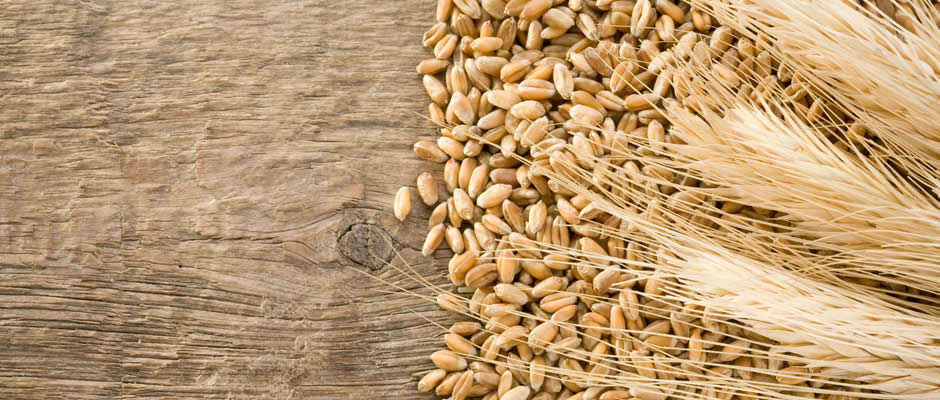 Erev Shavuot Service
Erev Shavuot Service
Saturday 4 June, 19:30-20:30
Led by Rabbis Mark Goldsmith, Debbie Young-Somers and Naomi Goldman on the EHRS Classic Channel and on Zoom. This service introduces us to the festival for this year.
Please contact admin@ehrs.uk for Zoom details.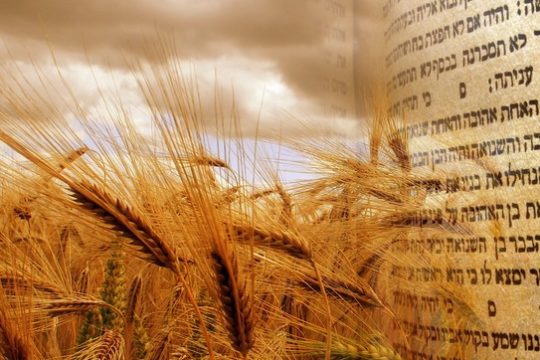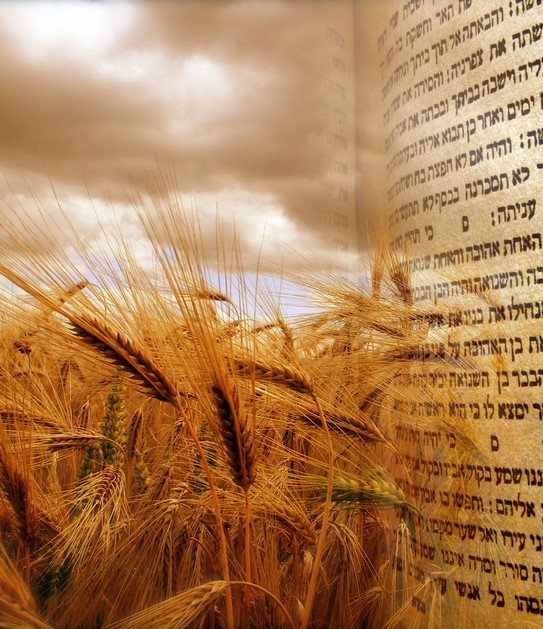 Tikkun Ley'l Shavuot
Tikkun Ley'l Shavuot
Saturday 4 June, 20:30-00:15
'Talking 'bout my Revelation'
Our Tikkun Ley'l Shavuot this year is all about what inspires us in Judaism. EHRS is joining together with Kol Chai Reform Synagogue in Hatch End for this online evening.
Shavuot celebrates the giving of Torah, our revelatory guide to everything! On this evening we invite you to share with our Rabbis what inspires you in Judaism. We will be interviewing Jewish educators and people from all walks of life so that we can build a picture of how Torah is effective today. If you would like to share what makes you Jewishly tick then please let rabbi.mark@ehrs.uk know so that we can share it. You can join us for all four sessions or just one or two, depending on your choice of bedtime! All of our sessions are on the Zoom link shown in Our Week Ahead or please contact admin@ehrs.uk for Zoom details.
Sessions will be:
20:30-21:15, 21:15-22:00, 22:00-22:15, 22:15-23:15, 23:15-00:15
There will be a break to get a coffee and piece of cheesecake to keep you going!
Please click here for the full programme of talks, discussions, Shavuot Cook-a-Long and art sessions.
The fun continues in person from 00:45-04:00 (approx!) at Kol Chai Synagogue, 434, Uxbridge Road, HA5 4RG with Rabbi Naomi Goldman and Rabbi Mark Goldsmith with Jewish study, song, talk and art – until Shacharit (morning service and Torah reading) at dawn!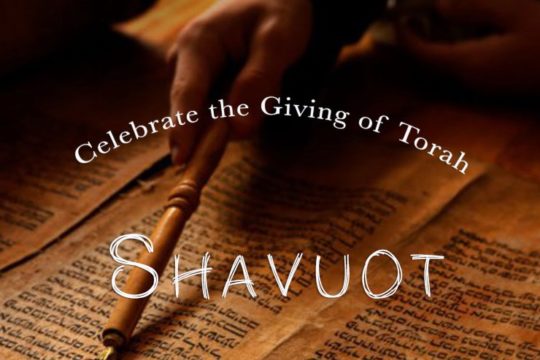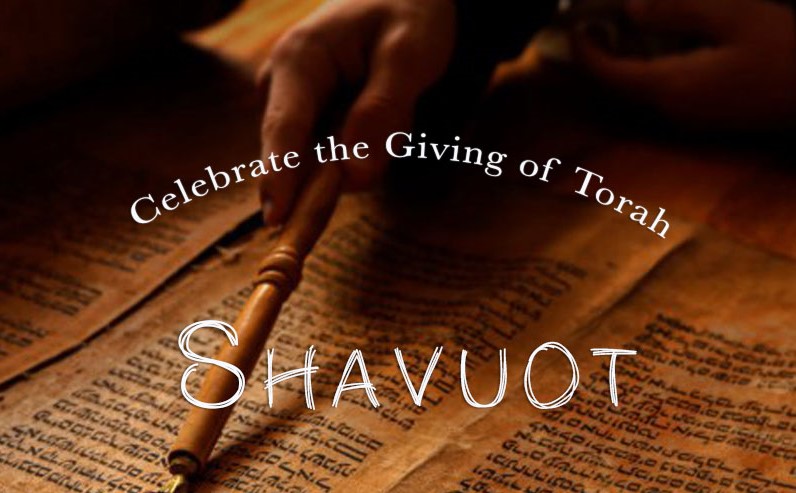 Shavuot Morning
Tikkun Ley'l Shavuot – Through the Night 00:45-05:30  (Yes really!) at Kol Chai Reform Synagogue 434 Uxbridge Rd, Pinner HA5 4RG.
EHRS and Kol Chai join together for the extraordinary early hours tradition of through the night Tikkun – music, Jewish study and discussion, art and more with Rabbi Mark and Rabbi Naomi Goldman, ending with an outdoor Shacharit (Shavuot morning service) as the sun rises.
Shavuot Morning Service from our Sanctuary
Sunday 5 June, 10:30
Our service includes the reading of the Ten Commandments and all the ingredients of a regular Shavuot. Led by our Rabbis, Cantor and Choir.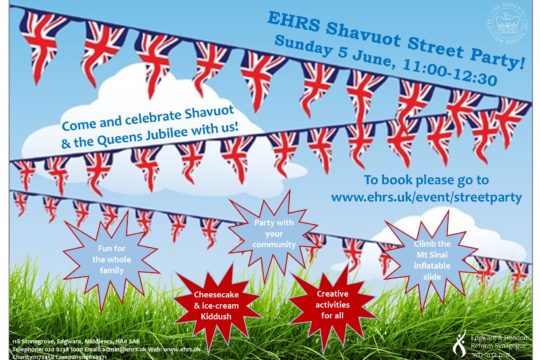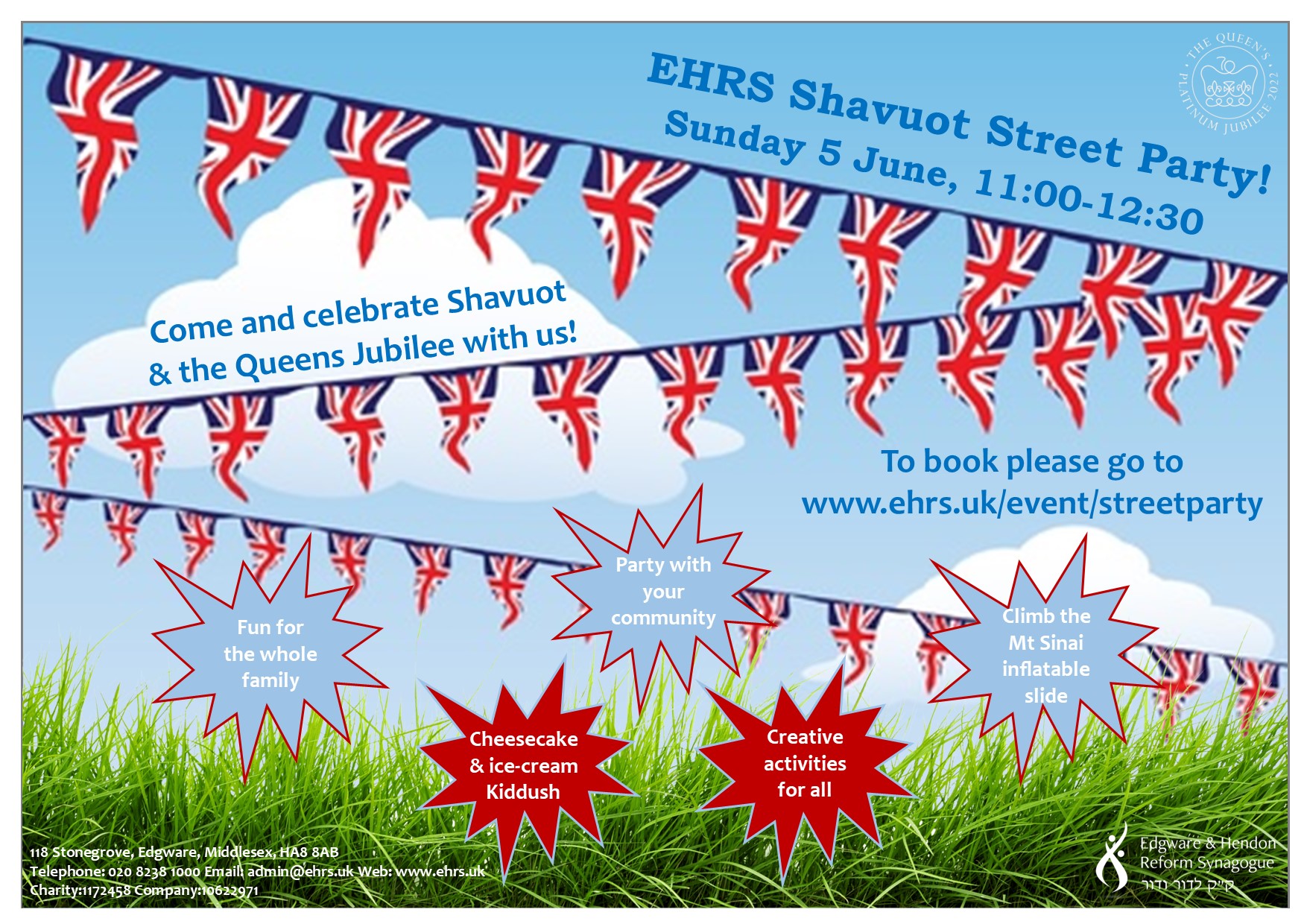 Shavuot Street Party
Shavuot Street Party
Sunday 5 June, 11:00-12:30
Come and celebrate Shavuot & the Queens Jubilee with us! Join us for a morning of celebration, community, fun & games.
Our Shavuot experience for families will be give you the chance to climb Mount Sinai, enjoy the Shavuot foods (ice-cream and cheesecake) and visit the stalls which will get you into the spirit of Shavuot and also celebrating Her Majesty Queen Elizabeth II's Jubilee. Did you know that the whole idea of the jubilee comes straight from our Torah? It's a street party taking place in the streets around Mount Sinai at EHRS!
Please click here to book