Edgware & Hendon Reform Synagogue welcome you join our Young Families Community. Our Young Families programme runs events, groups and support for you and your little ones. Get involved to give your little munchkins a taste of our wonderfully welcoming and fun family events, a fantastic opportunity to meet other young Jewish Families. We work closely with our Education Director, Youth Workers, Nagila nursery and of course our Rabbis to make every meeting special for the whole family.
For all event dates, times, info and sign up. Please visit and LIKE our Facebook page EHRS Young Families.
For more information or for any questions please contact our Young Families Coordinator Sarah Koster, youngadults@ehrs.uk. We hope to see you at one of our events soon.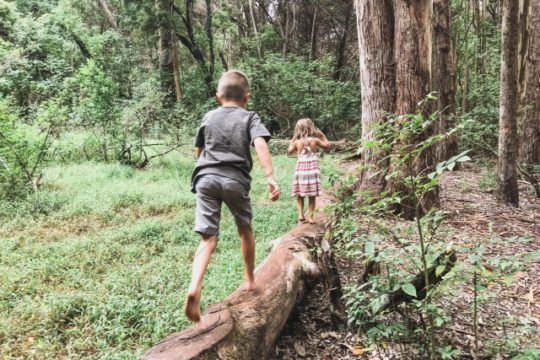 EHRS Young Families: Into the Woods!
EHRS Young Families: Into the Woods!
Shelter Building & Stories
EHRS Young Familes had a wonderful hour on Stanmore common building Sulkat Shalom (shelters of peace) out of whatever we could find to help us feel safe in the New Year. We kept our safe distance and each child enjoyed a lovely treat bag of snacks prepared by Sarah Koster. Rabbi Mark shared stories, Miriam taught HHD songs and Murray blew the Shofar to end the story!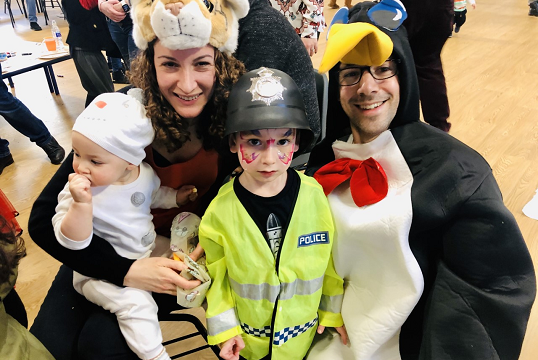 Tea & Tots Events (Sundays dates to be confirmed - not currently running in person due to COVID)
An afternoon or morning of entertainment for the little ones (older siblings welcome) much needed refreshments for parents and carers, and an opportunity to meet other young Jewish families.
-Vegetarian Dinner for the children
-Singing & Dancing
-Story Time
-Baby and Toddler Toys
-Art activities
-Adult Refreshments
Suggested donation of £5 per family.
Members and non-members always welcome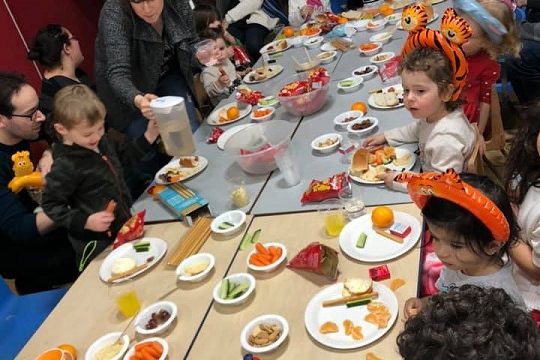 Tea & Tots Festival Fun
A similar structure to our regular tea and tots, but themed around celebrating calendar festivals. These 'sold out' events welcome the whole family, including grandparents! and have extra special entertainment. Our most recent Chanukah and Purim events saw over 100 attendees, and were hugely enjoyed by all.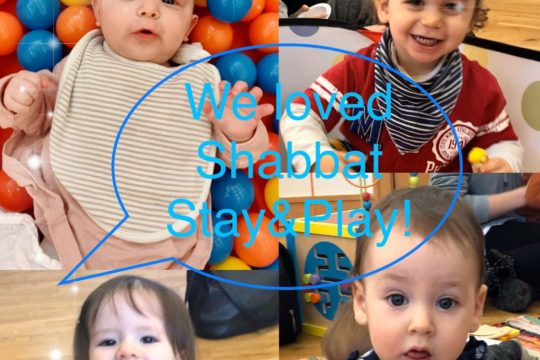 Shabbat stay and play (currently not running due to COVID)
Brand new Stay & Play!!
– Baby and Toddler toys
– Crafts
– Singing
– Kiddish with the Rabbi
– Kids snacks and hot drinks for parents/carers
*on the first & last Friday of every month.
Join us for a relaxing morning, where your little ones will be entertained, whilst you enjoy a hot drink and adult conversation! Meet other parents/carers and bring your friends.
Whine and Wine (on Zoom!)
A chance for parents of young kids to have a glass of something, and share, rant and support each other through the craziness of raising little ones in todays faced paced, never stop, 'striving to be the best parent and employee world' oh and then throw in a pandemic where we are also homeschooling.
Join In
We are mainly online at the moment but slowly starting to meet again in person where safe to do so and people want to.
There is still so much going on so please jump in.