Sunday Shacharit In Person – 24 October 2021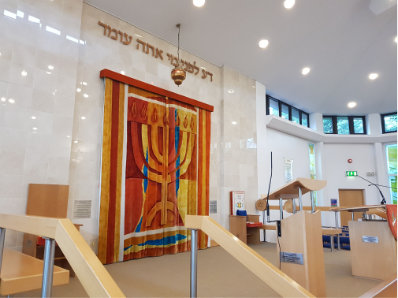 Join our Sunday Shacharit from Beit Midrash with in-person participation possible. We can accommodate up to 15 participants socially distanced. If you would like to join the in-person minyan, please ensure you register. For safety and traceability you will need to register that you would like to join us by the Friday before the service.
Please register your attendance below.
Please note that due to government guidelines the following requirements are necessary when attending in person –
1.       You will be required to give your name on the gate. Please do not touch the buzzer, the gate will be opened for you.
2.       The service will be held in the Beit Midrash. Please enter using the side door of the Synagogue building.
3.      You are required to wear a mask upon entering the building and at all times while inside the premises. Hand sanitiser will be placed inside the entry, please use this before going to the service.
4.       Seats will be arranged at 2m space. We have to insist that the seats are not moved as we maintain this social distancing.
5.       It is not necessary and you should not bring your own book. There will be a siddur on the chair. After the service please place your book in the designated place before leaving.
6.      Unfortunately, you will not be allowed to move between the chairs to talk to other worshippers before or during the service. Please do not approach the service leader for a chat. After the service and once outside the synagogue building you can of course talk to your fellow worshippers as you would do in your normal current routine.
7.      Singing is not allowed under the current guidelines but reading is. The leader of the service will be wearing a mask and will therefore be permitted to sing softly.
8.      After the service please leave via the front door of the Synagogue building, observing social distancing measures and go directly to the front gate. Please maintain social distancing until you have left the site.
We are aware that this may not be like any other service you may have attended before, this is unusual for all of us. As this is a fluid situation, we will be reviewing the steps we have taken to ensure your safety, on a regular basis.