Purim – Shushanwood at the Movies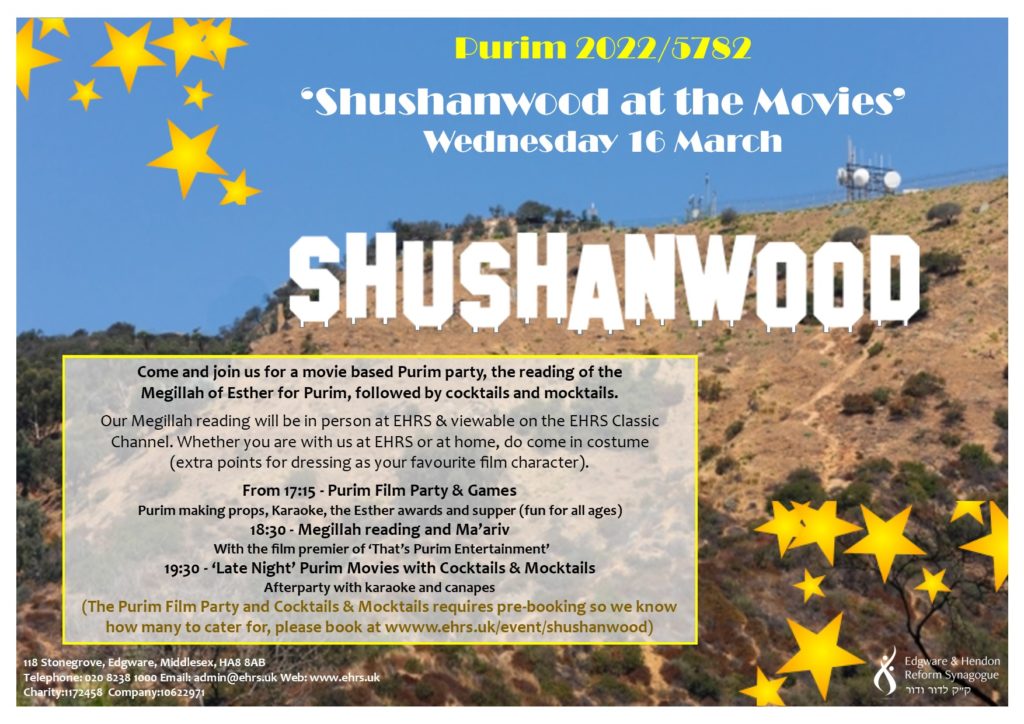 Purim 2022/5782
Shushanwood at the Movies
Wednesday 16 March, from 17:15
This year at EHRS we bring Shushanwood alive again with 'Shushanwood at the Movies'!
Come and join us for a movie based Purim party, the reading of the Megillah of Esther for Purim, followed by cocktails and mocktails.
Our Megillah reading will be in person and viewable on the EHRS Classic Channel (the home of a great weekly Jewish soap opera Shacharit and Torah Service).
Whether you are with us at the Synagogue or at home, do come in costume (extra points for dressing as your favourite film character).
17:15 – Purim Film Party & Games (Purim making props, Karaoke, the Esther awards and supper (fun for all ages). Requires pre-booking below so we know how many to cater for

18:30 – Megillah reading and Ma'ariv (with the film premier of 'That's Purim Entertainment')
19:30 – 'Late Night' Purim Movies with Cocktails & Mocktails (afterparty with karaoke and canapes). Requires pre-booking below so we know how many to cater for