February Half Term Scheme 2023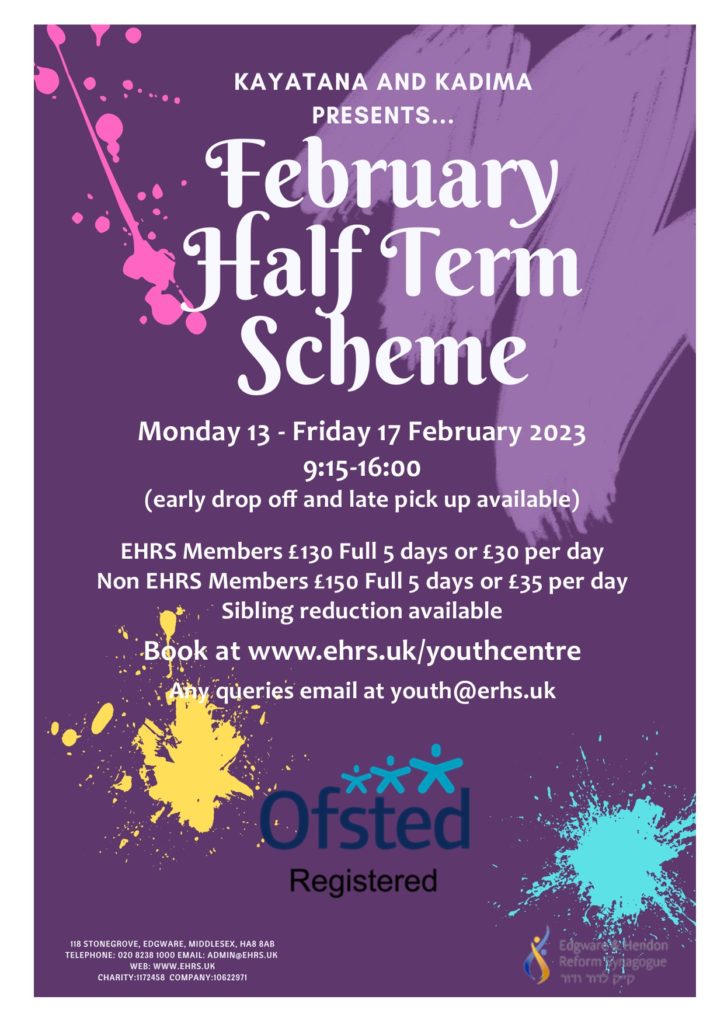 February Half Term Scheme 2023
Monday 13 – Friday 17 February
9:15-16:00 (early drop off from 8:30 & late pick up until 17:00 available upon booking)
Join us for a week packed full of fun and creative activities for everyone aged 5-11 years.
EHRS Youth Centre offers children the opportunity to express themselves and have fun in a safe and structured Reform Jewish environment.
You can book a whole week or individual days.
EHRS Members £130 Full 5 days or £30 per day
Non EHRS Members £150 Full 5 days or £35 per day
Sibling reduction available.
IF YOU WISH TO PAY WITH CHILDCARE VOUCHERS, PLEASE CONTACT GUY RONEN, education@ehrs.uk WHO WILL SEND YOU A MANUAL BOOKING FORM TO COMPLETE
Strict regulations will be adhered to by all Youth Workers and Madrichim with regards to health and safety. Please email youth@ehrs.uk if you have any queries.
Cancellation Policy
Cancellations that come in 2 weeks prior to camps or scheme starting will be issued a full refund or option for credits for future schemes and camps. No refunds will be given for cancellations within 2 weeks of camp unless the participant has an injury, illness and can provide a note from their doctor, as well as providing a signed statement from the parent or legal guardian confirming that this note is genuine and based upon the opinion of a medical professional. (If you are able to satisfy these 2 requirements then a full refund will be issued or acceptance of credits for future schemes or camps).
If a cancellation is initiated by EHRS/Government restrictions due to Covid-19 will result in a full refund or choice of credits for future camp or schemes. To discuss further email youth@ehrs.uk.
Click here to book