CHANUKAH 2022
Sunday 18 – Sunday 25 December 2022
Chanukah has become one of the most well-known festivals of the Jewish calendar. Yet this is a relatively new phenomenon, and is no doubt impacted by the festivals proximity to other festivals! As British Jews, however, we can really appreciate the delight of celebrating a festival of lights at the darkest and coldest time of year. In fact Chanukah is timed to coincide with not just the shortest days, but the darkest nights, when the moon is at its slimmest.
Here are instructions, blessings and songs for you to use or download to help you enjoy lighting your Chanukiah:  Chanukah Candle Lighting instructions  You can also find these from page 374 of our Reform Judaism Siddur, Seder HaTefilot.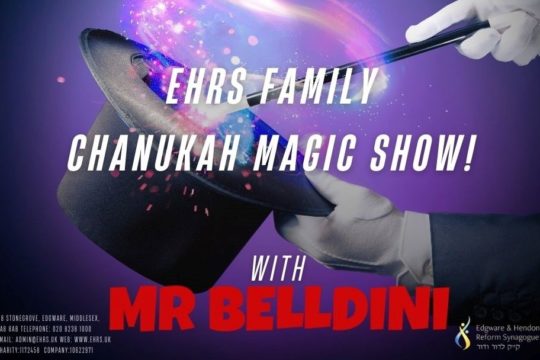 Chanukah Magic Show
Chanukah Magic Show
Sunday 18 December, 11:00-12:30
Bring your whole family along to our magical magic show, followed by doughnuts and candle lighting.
THIS EVENT IS NOW FULLY BOOKED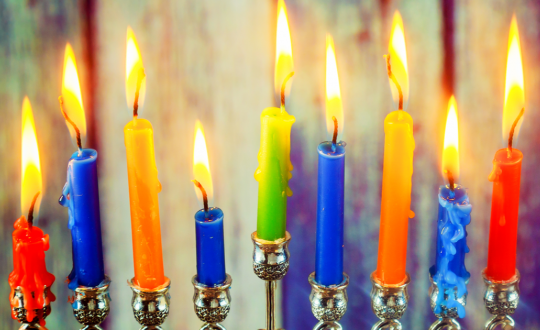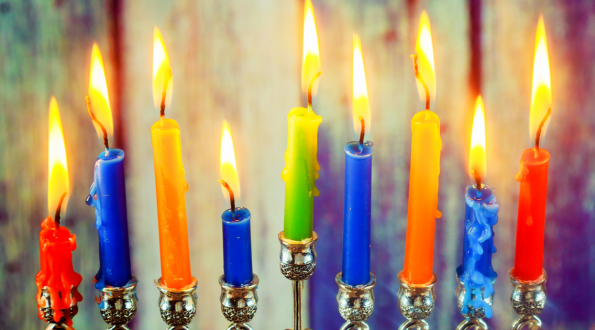 Chanukah Candle Lighting
Monday 19 December, 18:30-19:00
Join our Rabbis on Zoom to light your Chanukah candles at home.
Tuesday 20 December, 19:00
We will light the Chanukah candles as a community before our Stonegrove Serenade Evening Concert.
We welcome performers Leora Cohen and Paul Wingfield. We invite you to enjoy a light supper in our pop up cafe before the concert. 'Cafe 118' will be open 17:45. The café will re-open after the concert with drinks and doughnuts. Please note when booking if you will be using the café. Please click here to book.
Wednesday 21 December, 18:30-19:00
Join our Rabbis on Zoom to light your Chanukah candles at home.
Friday 23 & Saturday 24 December
Our Shabbat Chanukah will begin with the lighting of the Chanukah candles at our Shabbat evening service, please bring your Chanukiah from home so that we can truly set the shul figuratively alight! On Shabbat morning our service includes the special Chanukah readings.
Sunday 25 December, 18:30-19:00
Join our Rabbis on Zoom to light your Chanukah candles at home and avoid the tinsel of the evening!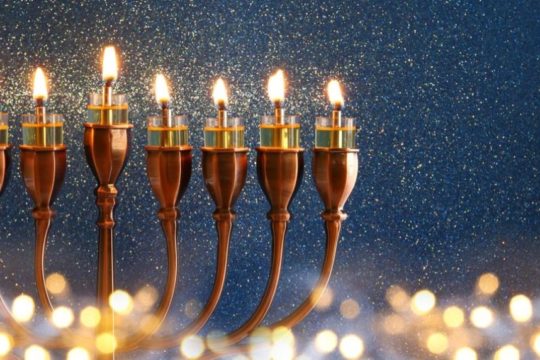 Rosh Chodesh Tevet
Rosh Chodesh Tevet
Thursday 22 December, 20:00-21:30
The first night of Tevet is on Saturday so we are pulling our Rosh Chodesh forwards a little. Join Rabbi Dr Deborah Kahn-Harris, Principal of Leo Baeck College and Rabbi Tanya for a study session & debate about opposites in Judaism. Hochmah Yisraelit (the wisdom of Jewish tradition) or Hochmah Yevanit (Greek wisdom)? This clash is at the basis of the Chanukah story.
At EHRS or on Zoom.
Please email admin@ehrs.uk for Zoom details.