Rabbi Kraft Memorial Book Club
Rabbi Kraft Memorial Book Club
The 'Rabbi Kraft Memorial Book Club', was set up in memory of our dearly missed Rabbi Neil Kraft. Rabbi Kraft was a keen reader and we're sure that he would have been pleased with this new venture. As a tribute to Rabbi Kraft we will include books which touch on the values he was most passionate about, such as understanding and caring.
Author and EHRS member, Debra Barnes, will be running the book club. Debra also runs the Book Club for The Association of Jewish Refugees and has interviewed many leading authors including Bart van Es, Ariana Neumann and Gaby Koppel.
We will meet on the first Tuesday of each month (unless specified)
For more information about the book club and your suggestions for future books to discuss, please email debrabarnes@outlook.com or education@ehrs.uk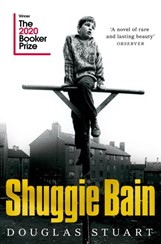 Tuesday 12 October
Rabbi Kraft Memorial Book Club
Tuesday 12 October, 19:30
At this meeting we will be reading 'Shuggie Bain' by Douglas Stuart. This is the 2020 Booker Prize winner, The Times 'Novel of the Year' and the Daily Telegraph 'Book of the Year'.
Please email atj@ehrs.uk for Zoom details.
It is 1981. Glasgow is dying and good families must grift to survive. Agnes Bain has always expected more from life. She dreams of greater things: a house with its own front door and a life bought and paid for outright (like her perfect, but false, teeth). But Agnes is abandoned by her philandering husband, and soon she and her three children find themselves trapped in a decimated mining town. As she descends deeper into drink, the children try their best to save her, yet one by one they must abandon her to save themselves. It is her son Shuggie who holds out hope the longest.
Shuggie is different. Fastidious and fussy, he shares his mother's sense of snobbish propriety. The miners' children pick on him and adults condemn him as no' right. But Shuggie believes that if he tries his hardest, he can be normal like the other boys and help his mother escape this hopeless place.
Douglas Stuart's Shuggie Bain lays bare the ruthlessness of poverty, the limits of love, and the hollowness of pride. A counterpart to the privileged Thatcher-era London of Alan Hollinghurst's The Line of Beauty, it also recalls the work of Édouard Louis, Frank McCourt, and Hanya Yanagihara, a blistering debut by a brilliant writer with a powerful and important story to tell.